Laser therapy is a drug-free and non-invasive treatment option that uses light energy to stimulate cell regeneration and improve blood flow. It helps to treat various problems by reducing pain and inflammation. Your veterinarian will direct low wattage Class IV laser energy where your pet has suffered from inflammation or pain.
Cold laser therapy has been around for decades, and it has shown numerous positive effects in treating various conditions in pets and humans. You will find that there is cold laser therapy and hot laser therapy. Cold laser therapy enhances the cell's healing process, while hot laser therapy helps heal incisions and deeper wounds.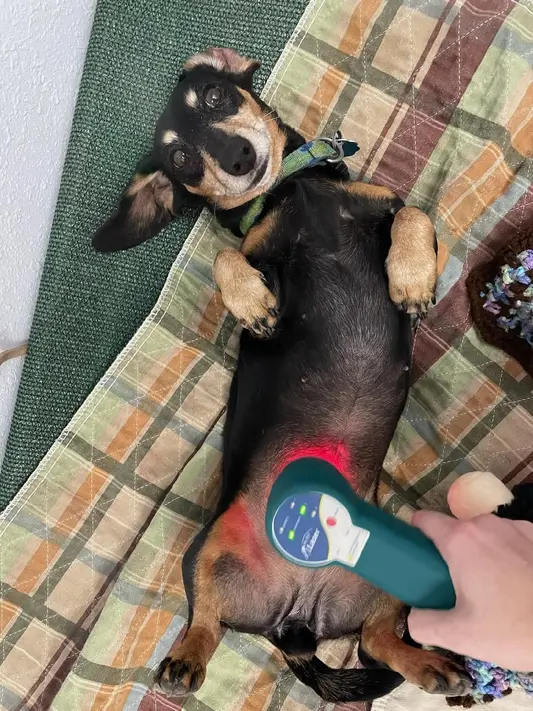 What Conditions Does Laser Therapy Address in Pets?
Cold laser therapy commonly helps to treat acute and chronic conditions. Examples of these conditions include:
Abscesses
Fractures

Surgical pain

Wounds
Injuries
Dental pain
Abdominal pain
Dermatitis
Inflamed ears
Neck and back pain
Arthritis
Sprains
Cold laser therapy helps manage acute and chronic conditions because it reduces inflammation and can start healing at the cellular level.
How Many Cold Laser Therapy Treatments Does My Pet Need?
Your pet's condition determines the number of cold laser therapy treatments necessary. It could be one treatment or more. For example, your veterinarian could recommend intense upfront therapy for chronic pain management and follow-up treatment as required.
What to Expect During Your Pet's Cold Laser Treatment
First, a cold laser therapy session lasts from 3 to 20 minutes, depending on your pet's condition. Also, cold laser therapy treatment emit no heat. The staff at the animal clinic will receive your pet in a comfortable and relaxing surrounding for the treatment
1. Before Treatment
Your holistic veterinarian carries out a physical exam and does x-ray tests to give a diagnosis.
2. During the Treatment
Your pet does not need sedation. Moreover, shaving or clipping the treatment area is not necessary. The veterinarian could perform the cold laser therapy as your pet turns or lies down. You can also be present during the treatment.
3. After the Treatment
Your pet could require follow-up treatment depending on the condition. Cold laser therapy does not have unwanted side effects. You may also notice that your dog becomes more active.
Some holistic veterinarians offer laser rental programs. These programs are convenient for clients who need regular treatments but cannot make daily trips to the animal clinic. Contact your veterinarian in Rolla 2 no more about the laser rental program.
Contact a Holistic Veterinarian or Animal Clinic in Rolla for Natural Pet Care
Pain management does not have a one fits all treatment. Your pet will need an accurate diagnosis from an animal clinic and an appropriate combination of therapies to match the diagnosis. Contact South Side Animal Clinic LLC in Rolla for cold laser therapy.