As a little girl, Dr. Jessica Wodohodsky lived on a farm in Missouri with various farm animals. She quickly discovered that she was intrigued with the anatomical differences in multiple species and fell in love with dogs, cats, horses, cattle, chickens, frogs, snakes, insects, bees, lizards and more. As a small child Dr. Jessica knew that she had a deep connection with the human animal bond. She set her goals to attend college and pursue her dreams of advancements in animal and human medicine.
Dr. Jessica graduated from Missouri State University (MSU) with a Bachelor's Degree in 2003 and Master's Degree in Chemistry in 2005 with an emphasis in Analytical Chemistry.
While she attended MSU as a graduate student, working on her masters degree she was selected by the National Science Foundation K-12 Program and also worked as a Graduate Assistant teaching Organic Chemistry to Junior and Senior college students. Upon graduation from MSU in 2005, Dr. Jessica continued her education at the University of Missouri, College of Veterinary Medicine to integrate her love of large and Small Animals with Chemistry.
While enrolled at the University of Missouri, College of Veterinary Medicine as a full time Veterinary student, she performed and presented research about a bacteria that was discovered in the reproductive organs of stallions upon various semen collections at the Middlebush farm. Dr. Jessica also actively participated in Equine Medical Research while at the University of Missouri, College of Veterinary Medicine. She was awarded The American Royal Scholarship in 2007 and 2008 in Kansas City, Missouri, where she worked with farm animals and assisted the Veterinarian with services for the American Royal Events. Dr. Jessica Wodohodsky graduated from the University of Missouri, College of Veterinary Medicine in May 2009.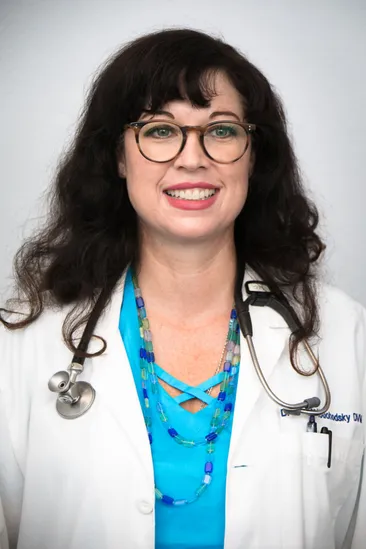 Her early years in practice were spent working in a small town called Dixon, Missouri. Her husband and family helped to operate the veterinary practice for about 10 years. During that time, Dr. Jessica Wodohodsky was awarded the outstanding woman of the year in 2013 and again in 2014.
In 2017, she had a wonderful opportunity to attend the American Holistic Veterinary Medical Association's annual conference. Since then, Dr. Jessica has been devoted to implementing Holistic Integrative Veterinary Medicine modalities in her practice such as Herbal Medicine, Nutritional & Dietary Therapy, Homeopathy, Massage, Cold Laser Therapy, Aromatherapy and other Alternative/Complementary Therapies for Animals.
In April of 2019, Dr. Jessica Wodohodsky and her Husband opened South Side Animal Clinic, LLC in Rolla, Missouri – offering Veterinary Medicine with Holistic Options.
A Chemist, Doctor and Community Educator at Heart
Dr. Jessica is a client and community educator at heart. She feels that spending extra time talking with clients and focusing on the various causes of disease, the healing process and prevention of chronic disease in veterinary medicine is a key and essential ingredient in animal healthcare. She believes Holistic modalities are safe and the integration of standard veterinary medicine with alternative therapies are synergistic!
Dr. Jessica has published Electrogenerated Chemiluminescence (ECL) detection of an Anthrax like compound and ECL detection of phenolic endocrine disrupting molecules at the Missouri State University. She completed research at the University of Missouri, College of Veterinary Medicine and presented the discovery of Comamonas Testosteroni infection in equine stallion.
Fundamentally, she loves education and is constantly reading, learning and exploring new Holistic Modalities for the implementation of improving the well being and healing processes of animals. At heart she is an Analytical Chemist that is in love with all animals large and small.
Clients know her as "going above and beyond her job, who is compassionate and takes her time with each animal." Her kind and tender approach, she is well suited as a veterinarian for work with extremely sensitive animals.
Dr. Jessica identified early on in her practice the key to animal health care is to create a relaxing environment that promotes good health. Her practice in Rolla, Missouri – South Side Animal Clinic, looks and feels like a spa rather than an animal hospital, with aromatherapy and separate examination rooms for feline and canines, pheromone diffusion as well as comfortable bedding for animals to lay on while they receive their therapies.